Chaos Generator (C64)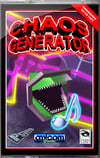 Psytronik Software in association with ICON64 and Amicom Games present CHAOS GENERATOR, another great C64 release from the team that bought you the award-winning LEGEND OF ATLANTIS, and this time they are bringing the arcade experience home!
The Premium Plus disk version of CHAOS GENERATOR is presented in a clear plastic case featuring professionally printed double-sided full colour artwork. The floppy disk is presented in a glossy disk sleeve with full colour vinyl disk label.
The budget disk version is presented in a full colour disk sleeve with a glossy vinyl disk label. This version also includes a printed instruction card.
The standard tape version is presented in a clear plastic single cassette case featuring a glossy full colour professionally printed inlay.
** FEATURES **
• Classic retro style arcade action - with a twist!
• Boppy soundtracks
• THE C64 Mini/Maxi compatible
• SD2IEC compatible
** CREDITS **
Programmed by Stuart Collier.
Cover Art, Graphics and Game Design by Trevor Storey.
Music by Andrew Fisher.
Tape master by Richard Bayliss & Martin Piper.
Additional packaging design by Kenz.
Please Note: You will also receive a FREE Digital download version of this game. The download link for the full version of the game will be sent to you within 24 hours of you ordering this title.