Eye Of The Gods (C64)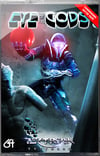 ** NOW AVAILABLE! **
Take part in a perilous journey through ancient ruins on a quest to find the near-mythical Eye of the Gods, an artifact so powerful it could solve the energy problems of a civilization on the brink of collapse! Use the special abilities given to you in your morphing power-suit to survive the hazards you encounter on your journey ...
The survival of mankind is depending on you!
The Premium Plus disk version is presented in a clear plastic case featuring professionally printed double-sided full colour artwork. The floppy disk is presented in a glossy disk sleeve with full colour disk label.
The budget disk version is presented in a full colour disk sleeve with a glossy vinyl disk label. This version includes a printed instruction card.
The standard tape version is presented in a clear plastic single cassette case featuring a glossy full colour professionally printed inlay.
** STORY **
In the distant future, Mankind has evolved technologically - but this development came at a price: The resources of the planet were gradually depleted to the point that civilization was left on the brink of collapse.
Ancient legends tell that in the origins of civilization, in those times where history is confused with myth, humanity possessed an artifact of great power known as the Eye of the Gods. Some believe it is a mystical object that connects with other dimensions; others believe it is an inexhaustible source of energy.
To calm the voices who plead for the artifact to be recovered, the Army sends one man, you, to infiltrate the ancient ruins of the Cradle of Civilization with one single purpose: Execute a desperate mission to find the Eye of the Gods, and to save humanity from it's own extinction.
** FEATURES **
• Huge map to explore!
• Varied enemies to destroy or avoid!
• Morphing power-suit with different powers!
• Retro-style C64 visuals!
• Cover artwork designed by Trevor 'Smila' Storey.
** CREDITS **
David Rodriguez - Design / Programming / SFX
Richard Bayliss - Music
Jason 'Kenz' Mackenzie - Game Packaging
Trevor 'Smila' Storey - Inlay Artwork
Please Note: You will also receive a FREE Digital download version of this game. The download link for the full version of the game will be sent to you within 24 hours of you ordering this title.