Rocket Smash EX (C64)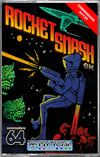 ** NOW AVAILABLE! **
It's time to strap on your trusty jetpack and smash some rockets in this specially EX-panded 64KB version of the RGCD compo hit Rocket Smash! Your goal is simple; on each of the single-screen levels you must reassemble and refuel your crashed rocket ship before your oxygen runs out. However, the hordes of fearsome aliens and deadly meteor showers on each planet will ensure that your mission is far from easy!
The Premium Plus disk version is presented in a clear plastic case featuring professionally printed double-sided full colour artwork. The floppy disk is presented in a glossy disk sleeve with full colour disk label.
The budget disk version is presented in a full colour disk sleeve with a glossy vinyl disk label. This version includes a printed instruction sheet.
The standard tape version is presented in a clear plastic single cassette case featuring a glossy full colour professionally printed inlay.
** STORY **
Your boss hates you. Your company computer is a demented psychopath, and all you really want to do is get home, sit down and have a nice cup of tea.
To make matters worse, you have to build a new rocket and refuel it before you can get away. All this while your oxygen supply is running out, meteors fly and aliens try to squish you.
At least there is the odd precious stone to supplement your meagre pay. You may even meet an exotic alien princess if you're lucky.
Space travel doesn't get dafter than this!
** FEATURES **
• Rockets! Aliens! Meteors! Lasers!
• Story and pure arcade 'loop' game modes!
• Three difficulty levels!
• Digitised speech!
• Cutscenes!
• Bonus mini-game + music demo!
** CREDITS **
Code:
John Christian Lønningdal
Design/Music/Graphics:
Saul Cross
Inlay Artwork:
Flemming Dupont
Technical Support:
Dr. Martin Wendt
Manual/Testing:
James Monkman
Cartridge Hardware:
Tim Harris & Raymond Lejuez
Please Note: You will also receive a FREE Digital download version of this game. The download link for the full version of the game will be sent to you within 24 hours of you ordering this title.