Shoot 'Em Up Destruction Set 4 (C64)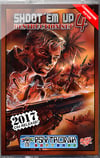 ** NOW AVAILABLE! **
The SEUDS team explode back onto the C64 with their most ambitious release to date! The fourth SEUDS compilation takes shoot 'em ups to the next level with massive controllable players, superb use of hi-res graphics, clever gameplay mechanics, awesome sonics, eye-popping presentation and MORE destruction than ever before!
The Premium Plus disk version of the Shoot 'Em Up Destruction Set 4 is presented in a clear plastic case featuring professionally printed full colour artwork with the instructions printed on the inside of the inlay. The inlay artwork was produced by renowned industry artist Oliver Frey. The floppy disk is presented in a full colour glossy disk sleeve with full colour label.
The budget disk version is presented in a full colour disk sleeve with a glossy disk label. This version also includes an instruction booklet.
SEUDS 4 features the following games:-
TAU ZERO RELOADED
The FIREBIRD was defeated in the original TAU ZERO game - now it's back, stronger than before, and headed for Earth. Blast off and save us all in this frantic shoot'em-up that features detailed hi-res graphics, ear-pounding soundtracks, power-ups and frenetic blasting ACTION!
BIG GUN #1
It's BIG. It's BAD. It's 60 tons of armored destruction... all under your control.
They call it "Mech Cruiser NTT-1"... You call it BIG GUN NUMBER ONE!
EDGE OF TIME - DOUBLE OR NOTHING 2
In this sequel to DOUBLE OR NOTHING, you face the strangest conflict in history.
You fight in two parallel realities, to save reality itself from breaking down.
You can win - for you have the EDGE OF TIME!
EXPENDABLE ARMY
You are a mercenary - a gun for hire in the Expendable Army. Your task is to overthrow a dictatorship in a small South American country. The ultimate goal is to reach the dictator himself... and bring him down!
GIGABLAST
You have been selected to test the GIGABLAST - a devastating new superweapon.
Fly the aircraft and drone across the robotic testing field, and take out as many machines as possible.
Please Note: The DISK version of SEUDS 4 also contains FOUR full bonus games - Super Silverfish, Darkland, Spy Rider 2 and Big Mech Alpha.
** SEUDS 4 CREDITS **
Game designs, storyline, gfx & sfx: Alf Yngve
Front-end designs, additional gfx, disk menus, music & enhancements: Richard Bayliss
Disk menu gfx, font, Expendable Army bitmap & packaging design: Jason 'Kenz' Mackenzie
Additional code, IRQ disk loader & Redux framework: Martin Piper
Edge of Time & Gigablast bitmaps: Igor Errazkin
Sideways scrolling engine: Jon Wells
Inlay art: Oliver Frey
Please Note: You will also receive a FREE Digital download version of this game. The download link for the full version of the game will be sent to you within 24 hours of you ordering this title.